July 15, 2009
Hey, post your favorite dishes right here!
Getting there....email me with issue`s @ tippy at ew3s dot com
July 15, 2009
How are you Tippy?
I LOVE BBQ-ing, Im just starting to bottle up a dry rub I make for beef, to start selling as a small start up spice business.
July 15, 2009
Doing good. Hey, you have t check out a new place that just opened up.
If you know where Davis's Sporting Goods is on RT17 in Sloatsburg, right next store is a little place called "HOG HEAVEN". I haven't been there yet but one of these nights on the way home I will swing by to check it out.
Getting there....email me with issue`s @ tippy at ew3s dot com
July 17, 2009
It's summer time, this forum should really take off! What's cooking...just about anything beef or pork! We have 2 gas grills now, one big and one small.On our big grill we have already cooked a 22 lb ham and a 12 lb turkey at the same time, and our smaller one we use mainly for veggies but it will do a lot more. Big grill is 6 burners and the small is only a 3 burner, but they do what we need. PARTY!
July 28, 2009
We love to cut up zucchini, squash, onions, tomatoes, and mushrooms, marinate them in Italian dressing, and grill them in a tin foil pouch. AMAZING!
July 29, 2009
I did a big brisket the weekend,slow cooked over a low flame for about 8 hrs with my own dry rub on it, that thing melted in your mouth.
August 4, 2009
Grilled shrimp, a couple of steak filet's and grilled veggies. The old surf and turf!
August 20, 2009
Just ribs, dry rub no need for sauce.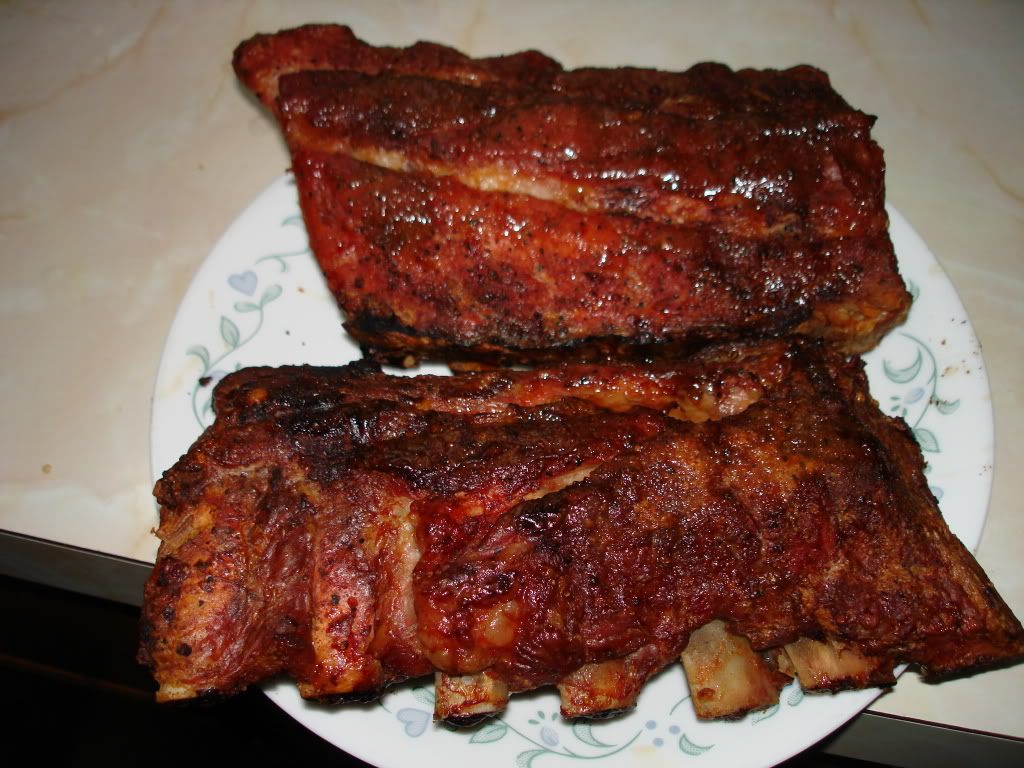 August 20, 2009
The other day we grilled corn on the cob (in the husk) and pork chops that had been marinated in a teriyaki/pineapple juice mixture. We grilled it all on a portable grill we take with us when we are out on our boat on the river.
April 26, 2010
Whats better, Baby Backs or Spare Ribs? I like the baby back but my neighbor says spare ribs are meatier. Which do you prefer?
March 5, 2011
Favorite recipe right now is Kbobs over a bed of white rice.
Kbos: Lean Steak(any cut) I prefer a thick Sirloin.
Peppers,Onions,Mushrooms,and potatos.
Prep: Marinade for atleast 2 hours in 1/2 cup red wine vinagar, few sprigs of rosemary, 2TBS crushed black pepper, 2tbs minced garlic, 1TSP Sea salt.
Skew all ingredients grill over low heat for 20-30 min (to preference)
As far as the rice I just use cheap Minute rice. Lay bed of rice over plate place meat and veggies over top and enjoy.
4.6L V8, 4X4 4400 series Flowmaster Exhaust T-Rex Billet Grille 2xGM-D7500 800W Pioneer AMPS 2x12" 1500W Pioneer Shallow Subs w/Box Pioneer AVH-P3100DVD 7.5" in-dash Touchscreen And Much More
March 7, 2011
typically boston butts for pulled pork,,, usually do about 30 pounds a week for the catering business... today i grilled a pork loin for dinner...
Post Message
BECOME A MEMBER TODAY!
Join.